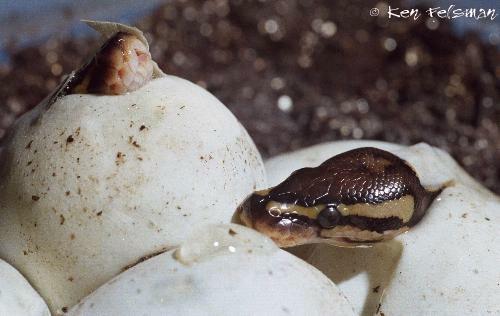 Troubleshooting Guide to BALL PYTHONS
Photos and Text by Ken Felsman
Natural History

Ball Pythons, Python regius (also know as Royal Python) are a relatively small and docile specie of snake, which are native to Western and West-Central Africa. If you have purchased a Ball Python from a pet store, chances are it was born in either Togo, Benin, or Ghana. They are called 'Ball Pythons' because, when frightened, they coil around their head and into a ball.

Ball pythons are in the same scientific family as other Boas and Pythons, as such they are constrictors. The term constrictor refers to their method of subduing food by coiling around the intended item, a small mammal, and suffocating it. Ball Pythons prefer to live in areas of mixed grassland and trees (savanna), and are active at night (nocturnal). They hunt at night with the help of their labial heat pits×, and their Jacobson's Organ×. During the day, they spend their time hiding in underground rodent burrows or termite mounds.

The average hatchling is about 16-18 inches long, and adults can pretty easily reach 36-48 inches. In captivity they can live up to about 50 years, but 20-30 years is probably more likely. Unfortunately due to the pressures of habitat fragmentation and destruction, as well as commercial collecting for the pet trade, skin trade, and the killing for food, Ball Pythons in the wild do not live as long. "It (Python regius) is considered a threatened species and permits are required for its legal export, living or dead." (J. Mehrtens, ca.1987)


This page brought to you by..... The letter H, The number , and...


©2001 Ken Felsman, all rights reserved
Herp Events
Reptile and amphibian expos, symposiums, zoo and museum exhibitions and other educational events are great places to ask questions, get answers and network with other herp keepers.
Upcoming Reptile and Amphibian Events:
Submit a non-profit event - Purchase a commercial listing
Photo Gallery
Our gallery allows registered users to upload their favorite reptile and amphibian photos to the topic galleries and personal photos to the member galleries. Photos can be used on our forums, classifieds, and Connect, or shared with friends and family.



Recent Ball Pythons Forum Posts


• Lesser pastel female?, posted by mbielman
• introduction, posted by qkuntz
• TRI-STRIPE, posted by craigtaylor191
• Shed issue, posted by MelodyForest
• Fire vs Flame, posted by ohernz
• Ball Python is acting weird, won't eat, posted by Quiller
• Vet Lab Services, posted by reptileman1
• Mojave Honeybee - what would you breed t, posted by ksshane
• Question about handling, posted by natethegreat
• Growth for a sub-adult female in a year?, posted by elksniper
• Pastel Caramel Clown, posted by tyler_royality
• Who besides, posted by AllBalledUp
• What do you think?, posted by slatespine
• please help! Spot on my ball's head, posted by inkedup1987
• sexing ball python, posted by garlo
• Cool Down?, posted by JMo
• Pastel died...., posted by Dave7777
• 100 flower snake eggs pipping, posted by RinL
• Yellow Belly?, posted by survey33
• A new one, posted by cypresscreek



Recent Ball Python Classifieds:


- 2014 Female Pastel
- 2014 Male Pastave
- 2010 Cinnamon Male PROVE...
- 2010 Pastel Male
- Outstanding Female Yello...
- Female Leopard Pastel Ye...
- Fantastic Female Leopard...
- Male lemon blast only 12...
- Pastel yellow belly male...
- Male pewter only 14900 s...
- Male pastel calico yello...
- Male black bee 89 black ...
- Very nice champagne yell...
- Make some silver bullets...
- 4 gene male butter x pa...