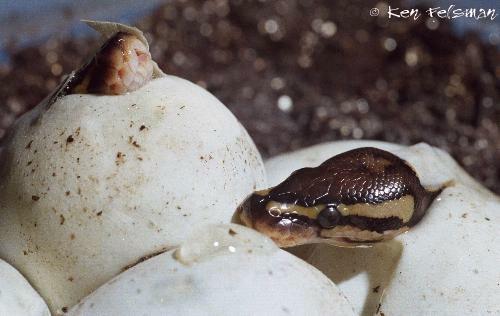 Troubleshooting Guide to BALL PYTHONS
Photos and Text by Ken Felsman
Natural History

Ball Pythons, Python regius (also know as Royal Python) are a relatively small and docile specie of snake, which are native to Western and West-Central Africa. If you have purchased a Ball Python from a pet store, chances are it was born in either Togo, Benin, or Ghana. They are called 'Ball Pythons' because, when frightened, they coil around their head and into a ball.

Ball pythons are in the same scientific family as other Boas and Pythons, as such they are constrictors. The term constrictor refers to their method of subduing food by coiling around the intended item, a small mammal, and suffocating it. Ball Pythons prefer to live in areas of mixed grassland and trees (savanna), and are active at night (nocturnal). They hunt at night with the help of their labial heat pits×, and their Jacobson's Organ×. During the day, they spend their time hiding in underground rodent burrows or termite mounds.

The average hatchling is about 16-18 inches long, and adults can pretty easily reach 36-48 inches. In captivity they can live up to about 50 years, but 20-30 years is probably more likely. Unfortunately due to the pressures of habitat fragmentation and destruction, as well as commercial collecting for the pet trade, skin trade, and the killing for food, Ball Pythons in the wild do not live as long. "It (Python regius) is considered a threatened species and permits are required for its legal export, living or dead." (J. Mehrtens, ca.1987)


This page brought to you by..... The letter H, The number , and...


©2001 Ken Felsman, all rights reserved
Sponsored Link



Recent Ball Pythons Forum Posts


• Anyone buying & selling using Bitcoins?, posted by anthill
• personality change in my ball python, posted by joshcox123
• Posting from iPhone ?, posted by oldskool28
• What do we have ???, posted by oldskool28
• searching the old forum archives, posted by BlakeMolone1
• 2016 1.0 Gravel , posted by tylorp
• Dual Sired Clutch, posted by tylorp
• Rough start after moving....., posted by ODEnchiLover
• Newest ball python, posted by Randall_Turner
• Health related question, posted by Futinshmire
• Boaphile cage stack, posted by stryker2004
• Poss Gravel?, posted by brachybaum
• Need some help, posted by aaronein
• Surprise clutch!, posted by lecoiskin
• Possible Gravid female with shed problem, posted by Eppademic
• Trouble breeding, posted by caldera03
• Difference Between Anery & Black Pastel?, posted by CastleCreatures
• Incubation question, posted by NYCMedic
• Looking for work in the Reptile Industry, posted by sheilamcquade
• Need Help, posted by Motsy15



Recent Ball Python Classifieds:


- Fire Fly
- SALE female Pastel
- Female Fire Pin Stripe
- Pastel Butter
- Axanthic VPI Female Bal...
- Female Albino Pin
- Killer Bee
- Enchi 6999
- Proven breeder Black Pas...
- MOJAVE LUCY STUFF
- SPOTNOSE COMBOS
- ORANGE DREAM COMBOS
- PIED 100 HET CANDY MALE
- BANANA BLACK PASTEL WOMA...
- CORAL GLOW BANANA COMBO...