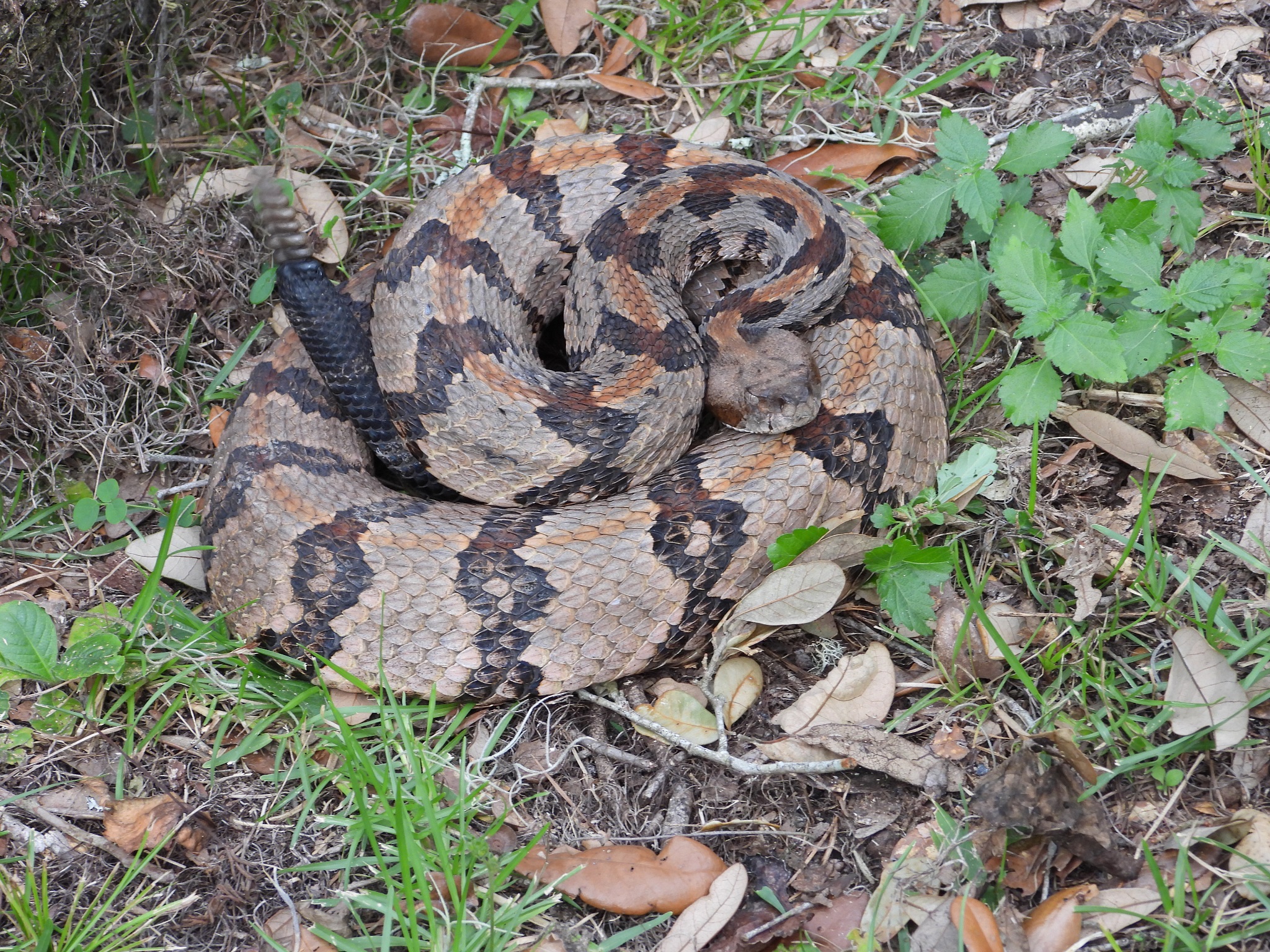 A Canebrake Rattlesnake, large and irate, but not without reason.
The sun was well below the horizon. Darkness was being ushered in by the plaintive calls of Chuck-Will's-Widows and a few Green Treefrogs. The warmth of the day was giving way to what had been forecast to be a cool evening and an even cooler night. One more round on the herping road and time to head home.
But I only made it half-way and decided that enough was enough. I reversed and headed for home, still some hundred dark miles southward. Ahha. Pavement! Progress. MPH? Let's say 60. A thick cover of clouds added to the darkness.
I swung around a curve and—SNAKE. Big Snake. It was in the opposite lane and was moving steadily towards the edge, the long roadside grasses and almost impenetrable woodland blackberry tangles.
I stood on the brakes, safely reversed direction—and the snake had disappeared. Was it a cottonmouth? I had been able to see it was very heavy-bodied. I clambered out of the car headlamp a blaze, clampstick in hand, and almost at woodland edge saw the tall grasses moving sinuously.
On my first step towards it I got snagged by blackberries, went down, and lost my headlamp that went out when it hit the ground. I floundered around, retrieved the dropped utensils, said the heck with this, stood up and stopped in my tracks. That big snake had decided to "talk", not in the hisses of an angry cottonmouth, but, rather, in the whirring language of an irate rattlesnake. And in this area it almost had to be a Canebrake,
Crotalus horridus atricaudatus
.
From that point on, all went well. I sidled towards the ratcheting, finally saw the coiled and irate snake, got a couple of dozen photos, and left after estimating the length of the snake as well over a hefty length of 4 feet. A bit darker in color than most seen in the area, it was the highlight of the night, and quite probably for the season.
Continue reading "CANEBRAKE! A Big One!"