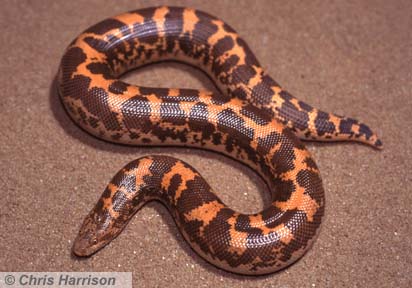 ---
Welcome to the Sand Boa Page, a page dedicated to providing information about Sand Boas and other Erycine snakes. This page is intended for the casual herpetologist who would like to know a little more about Sand Boas and their relatives and for the herpetoculturalist who wants tips on keeping and breeding these amazing little boas.
This is always a work in progress. I am extremely grateful to David Sorensen who has provided me photographs of all the other species of Eryx!
(Click here to send me suggestions or comments).
---
The Sand Boa Page is proud to be

- the world's premiere Herp web site!
This site has been visited by
Sand Boa aficionados since July 13, 2000.
---
Recent changes -
In November 2003, I updated the Sandboa resources page
---
Table of Contents
link to the various species accounts for the genus Eryx

link to the care sheets for the genus Eryx

link to the various species accounts for other snakes in the subfamily Erycinae

a comparison of the Erycines for common traits desired in captive snakes

a compilation of links to other Sand Boa related sites

link to discussions of the relationships of these snakes to each other and the names used on this page

Want more information? Here is a partial list of references relating to the Erycinae

A lot of folks helped inspire and contribute to this work in progress.
---
© Chris Harrison
updated November 2003
Herp Events
Reptile and amphibian expos, symposiums, zoo and museum exhibitions and other educational events are great places to ask questions, get answers and network with other herp keepers.
Upcoming Reptile and Amphibian Events:
Submit a non-profit event - Purchase a commercial listing
New/Updated
Looking for a reptile or amphibian related business? A reptile store, breeder, importer, maunfacturer or supplier? Our business directory lists some of the most popluar herp businesses in the world.
Locate a reptile or amphibian business by name:
Video Gallery
Check out these reptile and amphibian submitted by staff, volunteers, and users of the kingsnake.com community. Our system supports videos hosted on YouTube. If you have a favorite YouTube video, please submit it here.
Site Tools
Manage - manage your user and advertising accounts
Purchase - advertising and services purchase quick links
Support - help, tips, & resources quick links
Are you registered?

To advertise here using a business name you must have your legal business name registration verified.

Click here

for details on the program or to register your business FREE!
Glossary