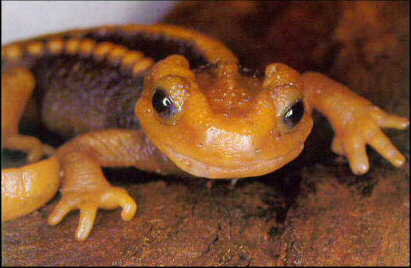 The Mandarin Salamander (Tylototriton shanjing)
The Mandarin Salamander FAQ
by Marc S Staniszewski


INTRODUCTION
The small and primitive genus Tylototriton (family Salamandridae) includes some of the strangest caudates known. There are five described species which have been split into two sub-genera; Tylototriton and Echinotriton. Echinotriton is so called because of the extremely sharp spines (from the Greek Echino which means spiny or spiky) which, in 2 species, are able to penetrate through small apertures in the flanks to act as a defensive mechanism against predation. The genus Tylototriton contains the most colourful and primitive species of which one in particular, the Mandarin salamander (Tylototriton shanjing (=verrucosus)) perhaps represents one of the most stunning caudates. Fortunately it is this species which is most likely to appear in the hobby, once due to large scale imports, recently as a result of small-scale European captive breeding projects.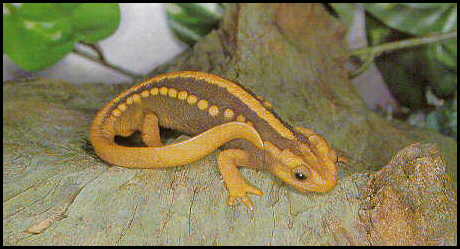 The beautiful markings make the Mandarin Salamander
(Tylototriton shanjing) a unique caudate species

DISTRIBUTION & BEHAVIOURAL MECHANISMS
Also called the Emperor or crocodile newt, the Mandarin salamander hails from the mountains of western China (primarily in the Himalayan subregion of western Yunan), Burma, extreme northeast India, northern Thailand (where it is probably extinct) and Nepal. Here it inhabits cool woodland and forest often in the vicinity of slow-moving water. Attaining a length of 6 - 8 inches (15.24 - 20.32cm), its vivid dorsal coloration of a dazzling orange vertebral stripe culminating in a completely orange tail along with 12 - 14 orange rounded protuberances along the ribs on a black, dark brown or maroon background makes it conspicuous. Therefore it would seemingly be quite open to predation. However apart from being quite shy (which is anomalous with its captive behaviour as can be seen later), its skin contains some rather distasteful and potentially harmful alkaloids. In addition the skull and upper vertebrae are heavily armoured with additional layers of thick bone (which gives it the appearance of wearing a decorate crown hence the name emperor) which serves to deter predators. The startling coloration actually enables it to bath freely in the open during the day where the shifting reflection of light against the pebbly beds in the water enables a phenomenon known as cryptic colouring (ie. the colours are broken up so that they merge with the colours of the pebbles). Even so certain water snakes of the genus Natrix and raptors (birds of prey) are known to prey on this salamander without displaying any adverse effects. Therefore it is generally accepted that this is the main reason for the mandarin salamander being primarily nocturnal in the wild - a trait which is not common in captive specimens.



NEXT >

All text and photo's - Copyright ©1996-2000 Marc Staniszewski - Most recent revision: 02/03/00 - Amphibian Information Centre