2006 PNG Snakebite Management Courses: Madang & Port Moresby
To meet demand, two SMC courses were offered in 2006.
The first was staged in Madang at Divine Word University from 30 August to 1 September, just ahead of the PNG Medical Association's Annual Scientific Symposium the following week. As in 2005 a large number of the participants were 3rd year Health Extension Officer trainee's from Divine Word University.
The 'faculty' then flew back to Port Moresby where a second SMC was run from 11-13 September at the UPNG School of Medicine & Health Sciences. This was followed on the 14-15 September by our Inaugural 'Emergency & Intensive Care Management of Snakebite' Course designed specifically for the staff of the Emergency, High Dependency and Intensive Care Departments at Port Moresby General Hospital.
As in previous years funding continues to be provided by Oil Search Limited, and we thank them once again for continuing to support this important medical teaching initiative.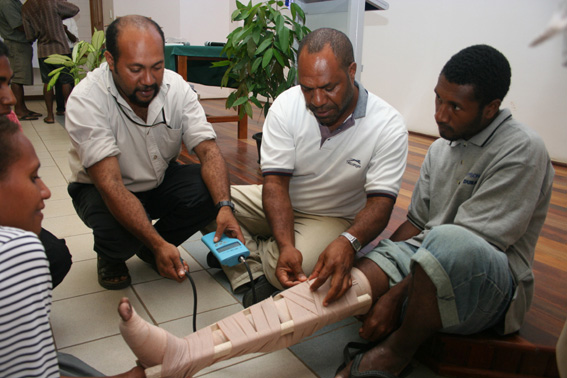 Dr Vincent Atua from Modilon General Hospital (Madang) is currently collaborating with David Williams on a study of the efficacy of snakebite first-aid training techniques in rural communities on Karkar Island off the coast of Madang. Vincent also lectures on the importance of appropriate, effective first-aid at the SMC, and a number of practical sessions are held to teach participants how to properly apply pressure-immobilisation bandaging (PIB) and assess it's effectiveness. The participants are then encouraged to go back to their communities and teach these same techniques to their wantoks.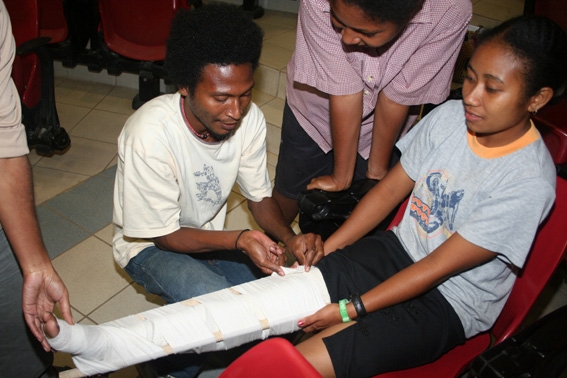 Participants practice the correct application of PIB, and learn how to assess the potential effectiveness of a PIB bandage on an incoming patient against four criteria: (a) commencement of the bandage just above the digits; (b) adequacy of pressure applied by the bandage; (c) extension of bandaging along as much of the limb as possible; and (d) effectiveness of patient immobilisation with splints or other tecnhiques.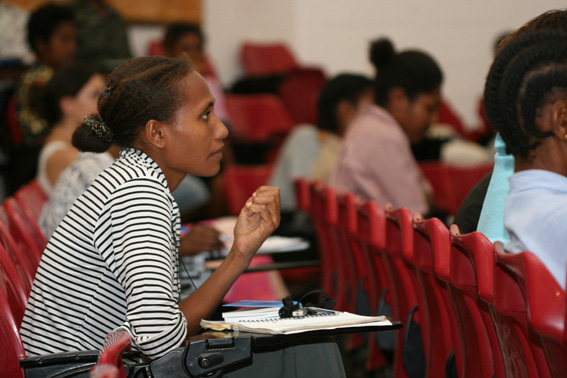 Health workers are acutely aware of the potential consequences of snakebite in rural communities, and many have personal experience of having had patients die for want of antivenom, equipment or transportation to another (better equiped) hospital. Many report being frustrated at not having had the right information or training in the past, and this perhaps explains the popularity of the Snakebite Management Course. In the future it is hoped that this basic course will be extended to other Centres throughout PNG to give even more health workers access to the appropriate training opportunities.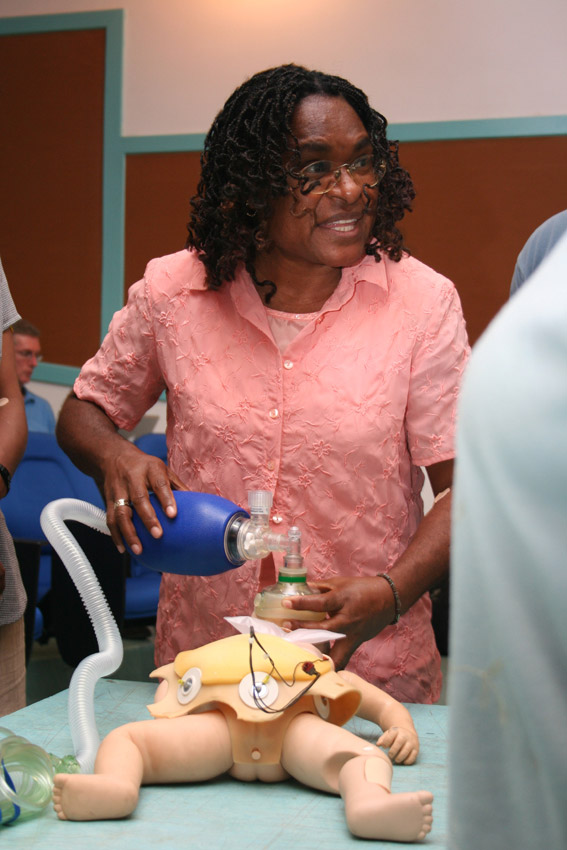 Participant in the 2006 Port Moresby SMC practicing manual ventilation for infant patients. Although snakebite is rare among patients less than 1 year of age, the rural lifestyles of many people do expose infants to a risk of snakebite, and every year there are several bites involving very young children.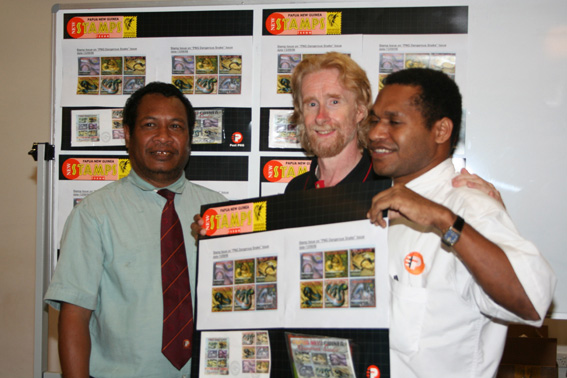 One of the visiting lecturer's this year was Dr Mark O'Shea from the United Kingdom. Mark is best known around the world as the host of Animal Planet Television's "O'Shea's Big Adventure" series, but in PNG is famous for his work with venomous snakes during the Oxford University Snakebite Project in the late 1980's and early 1990's. He is the author of "A guide to the snakes of Papua New Guinea", and recently worked with Post PNG to produce an educational stamp series on PNG's venomous snakes. The stamps were officially launched during the Port Moresby Snakebite Management Course in September 2006.
---
| Introduction | Research | Species Accounts | PDF Library | Care sheets | Film & Television | Links | Contact |
Except where stated otherwise all site content © David Williams (1998-2007)