2005 PNG Snakebite Management Course: Madang
The second PNG Snakebite Management Course took place at Divine Word University in Madang on 20-23 September, 2005. The high costs of travel within PNG make it difficult for rural health workers on the northern side of the Island to get to Port Moresby for training, and so it was decided that the SMC should come to them instead. Once again our volunteer 'faculty' donated their time and travel costs to the cause, and 105 participants from 9 Provinces converged on the modern facilities provided by Divine Word University. Funding was again provided by Oil Search Limited, who had also contributed towards the cost of producing the Handbook "Venomous bites and stings in Papua New Guinea" which was distributed to course participants.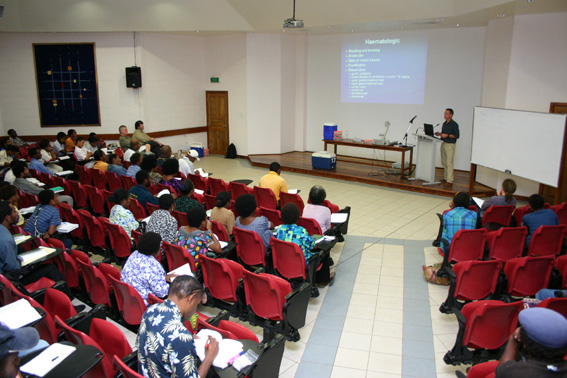 Course participants in the 2005 SMC listening to Dr Simon Jensen delivering one of the clinical practice lectures in the comfort of DWU's Sir Peter Barter Theatre. Along with colleague, David Williams, Dr Jensen is the driving force behind the Clinical Toxinology Teaching Programme in Papua New Guinea. He is visiting Emergency Medicine Consultant at Port Moresby General Hospital, and visiting Senior Lecturer in Emergency Medicine at the UPNG School of Medicine & Health Sciences in Port Moresby.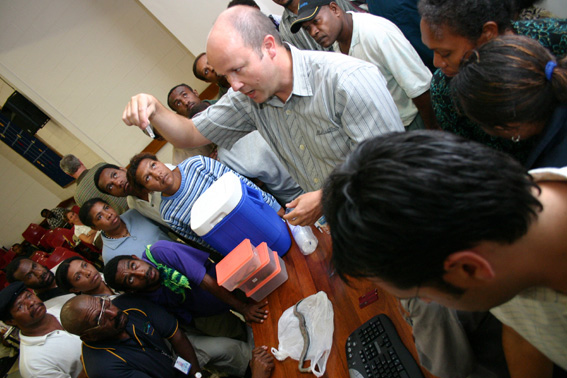 Visiting herpetologist Dr Wolfgang Wüster from the University of Wales in the UK conducting a workshop on the identification of venomous snakes. There is much still to learn about the systematics of PNG's venomous ophiofauna and rural health workers are assisting a current project run by Dr Wüster and David Williams by learning how to collect viable tissue samples for mtDNA analysis from dead snakes brought to their Clinics by snakebite patients.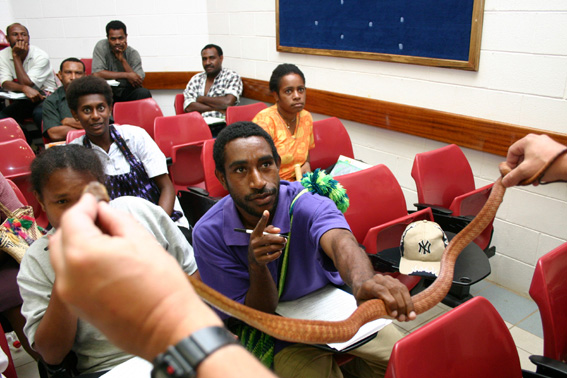 Participants are encouraged to overcome their fear of snakes, and to develop a basic knowledge of the species found in their provinces. For many, the opportunity to touch this brown tree snake (Boiga irregularis) produced a mixture of emotions ranging from curiosity and apprehension to abject terror. Appropriate awareness of indigenous snake fauna is crucial to improving the management of snakebite in PNG since many misconceptions exist.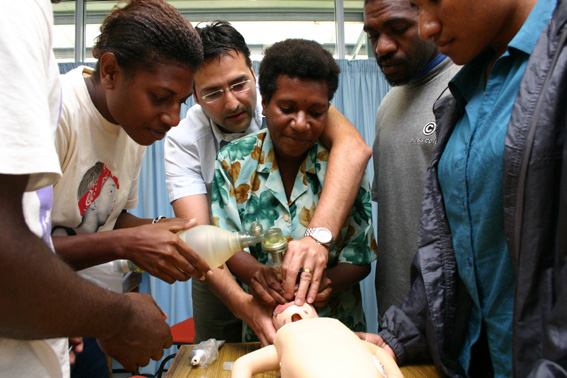 Emergency Physician & AVRU Deputy Director Dr Bill Nimo supervising a practical workshop on airway management for babies and children. Snakebite is common in paediatric patients, and case fatality rates as high as 25.9% have been reported among envenomed children in Papua New Guinea.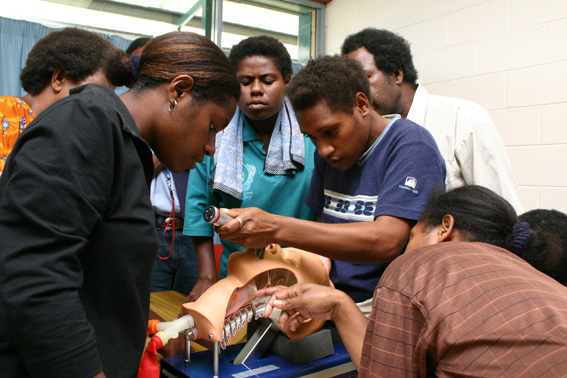 Course participants using a cut-away airway mannequin to practice intubation techniques while at the same time being able to observe internal structures and tube placement. The course includes a variety of practical workshops that are designed to both reinforce lecture content, and to equip participants with an improved knowledge of practical procedures.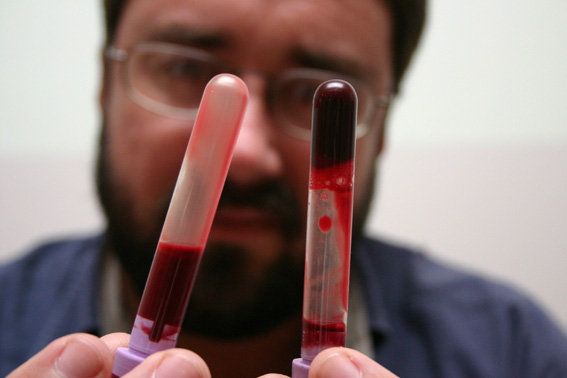 The 20 Minute Whole Blood Clotting Test (20WBCT) is a simple, low-cost test of coagulation status that can be used in even the most basic of health facilities. All that is required is a clean, dry glass tube, and 2-3 mL of venous blood. The blood is place in the tube and allowed to stand at ambient temperature for 20 minutes. Upon inversion, normal blood will be seen to have formed a clot (tube on right), while non-clotting blood contains no such clot (tube on left). In Papua New Guinea, a history of suspected snakebite combined with non-clotting blood as determined by the 20WBCT is an absolute indication for antivenom. Learning the correct way to perform this simple test is a fundamental part of the Snakebite Management Course.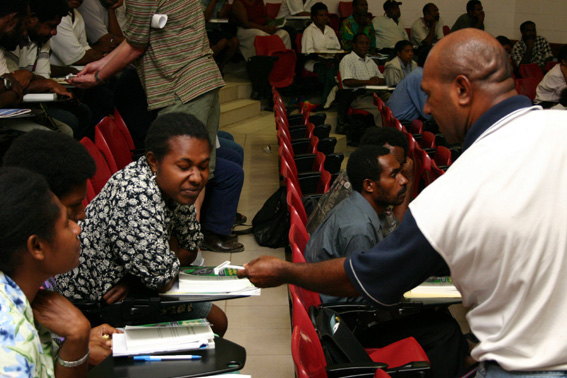 Although used in many Australian hospitals, the CSL Snake Venom Detection Kit has not been introduced into Papua New Guinea until recently. Following a cost-benefit study in 2005, moves are now underway to make the kits available in areas of PNG where snakebites may be due to more than one species of snake. Participants in the Snakebite Management Course have been receiving training in the use of these kits from CSL IH Group Manager, Mr Tim Carroll since 2004. Here, participants are being shown the results of a SVDK test performed during a demonstration of its use.
---
| Introduction | Research | Species Accounts | PDF Library | Care sheets | Film & Television | Links | Contact |
Except where stated otherwise all site content © David Williams (1998-2007)