2004 PNG Snakebite Management Course: Port Moresby
The Inaugural PNG Snakebite Management Course was conducted at the University of Papua New Guinea's School of Medicine and Health Sciences in Port Moresby on 1-3 September, 2004. The course curriculum was developed by clinical toxinologist and herpetologist David Williams and visiting-PMGH emergency physician Dr Simon Jensen as an effort to provide health workers with the up-to-date training in the assessment, diagnosis, treatment and ongoing management of snakebite patients.
The course was taught by a volunteer 'faculty' of doctors and scientists from overseas and from Papua New Guinea. 62 participants from 8 Provinces enrolled in this first course. Funding for the course was provided by Oil Search Limited, a local gas and petroleum producer.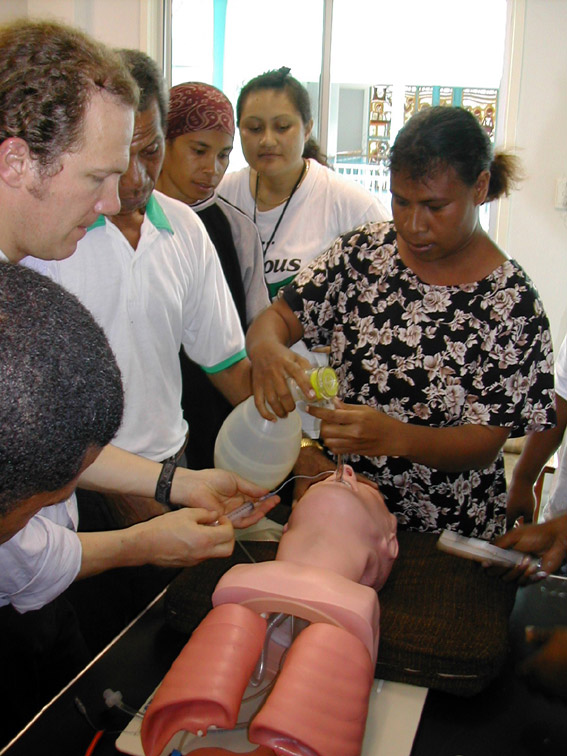 Dr Antony Chenhall (2nd from left) from St. Vincent's Hospital (Melbourne) teaching rural health workers how to manually ventilate intubated patients. Although most rural health centres lack the facilities, staff and equipment to be able to ventilate patients, the SMC introduces participants to the principles of airway management and appropriate airway intervention in order to improve their knowledge of airway physiology and to teach basic resuscitation skills.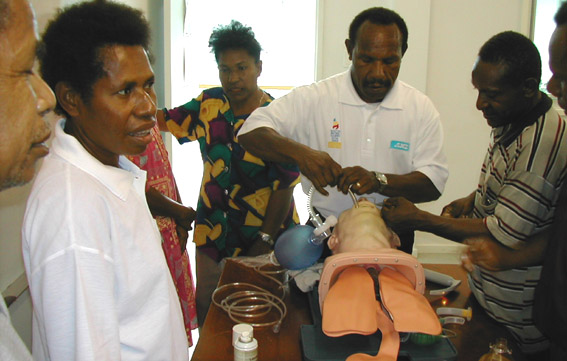 Dr Gertrude Didei (2nd from left) from Modilon Hospital (Madang) is one of several local physicians who donate time to help teach airway management techniques to participants. Strong emphasis is given to teaching health workers manual ventilation strategies. Very few hospitals in Papua New Guinea have mechanical ventilators, and many snakebite bites die for want of access to such facilities. The SMC emphasises the need for regular, proactive assessment of airway patency and appropriate airway protection.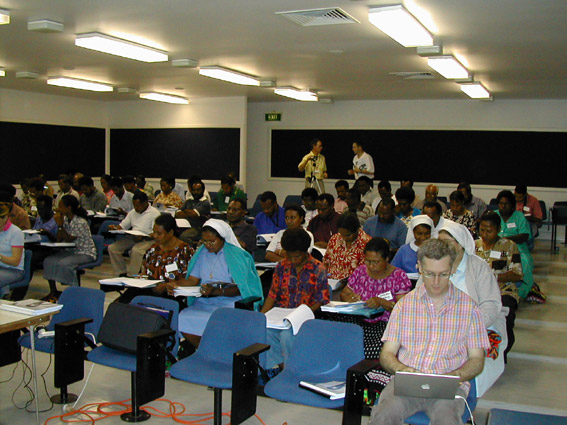 Participants in the 2004 PNG Snakebite Management Course gathered in the lecture theatre at the UPNG School of Medicine & Health Sciences. There are few doctors based in rural health centres, and the majority of rural health workers are either Health Extension Officers (HEO's), Nursing Officers (NO's) or Community Health Workers (CHW's).
---
| Introduction | Research | Species Accounts | PDF Library | Care sheets | Film & Television | Links | Contact |
Except where stated otherwise all site content © David Williams (1998-2007)