One of the goals of my work in Papua New Guinea is to broaden the current understanding of the toxins deployed by the Papuan taipan (Oxyuranus scutellatus canni) against both its prey, and unwitting human victims.
James Cook University PhD student Ronelle Welton was asked to help by exploring the proteomics of all three Oxyuranus spp.: the Australian coastal taipan (Oxyuranus scutellatus), inland taipan (Oxyuranus microlepidotus) and the Papuan taipan. Ronelle needed samples of Papuan taipan venom, and venom gland tissue to answer the question of whether anything in the venom of this subspecies differed significantly from its Aussie cousins, and we began planning a fieldtrip to Papua New Guinea to come up with the goods.
When I mentioned the trip to my mate Dr Wolfgang Wuster from the University of Bangor in the UK, he jumped at the chance to join us, and we began planning to meet at the upcoming Asia-Pacific Congress of the International Society on Toxinology in Cairns, North Queensland, and to fly from there to PNG at the end of the meeting.
Neither Wolfgang nor Ronelle had been to PNG before, but had heard all the stories doing the rounds about the dangers to life and limb - not from taipans - but from marauding Raskol gangs.
God only knows what their initial thoughts must have been when I told them our plan would be to take a PMV (aka a 10 tonne canvas-covered truck with crude bench seats) 250 kilometres south-east of the capital Port Moresby to a village with no electricity, no phones, no airport, and frequently impassable roads that ... well yes, were occasionally frequented by the aforesaid marauding Raskol gangs ...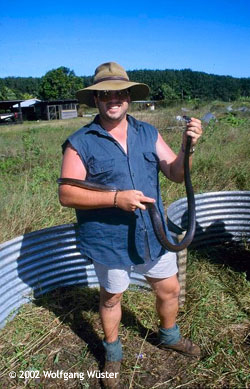 David Williams with a freshly caught male Papuan taipan (Oxyuranus scutellatus canni)