Trans-Pecos Rat Snake
(B. subocularis)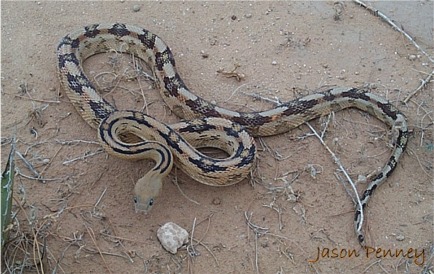 Found on FM 1111 in Hudspeth County, Texas in October of 2000.. About 4.5 ft.
Size: up to 66", commonly 3-4 feet.
Range in Texas: Throughout the Trans-Pecos, West to El Paso, South to Val Verde County.
Comments: A medium sized powerful rat snake. When first seen on the raod, the most often just lay there. This leads to allot of them being run over. In my opinion, the "Suboc" is the most beautiful rat snake found in the United States. There is some variation in color. I have personally found them in Presidio, Brewster, Jeff Davis, Culberson and Hudspeth Counties. The larger ones that I have found in Hudspeth county seem to lean towards Orange (maybe just a darker version of their natural color). The larger wild caught ones unfortunately don't seem to adapt well to captive feeding of lab mice. They seem to prefer their natural prey such as Kangaroo Rats. So when I have kept them, I have to catch Kangaroo Rats to keep them fed. The smaller wild caught (under 3 ft.) usually adapt and accept lab mice well. Click on the Thumbnails below for a more detailed picture of the Trans-Pecos Rat Snake. The last thumbnail is of a blond phase subocularis that a friend found in the Christmas Mts. of Brewster County.