Mottled Rock Rattlesnake
(Crotalus lepidus lepidus)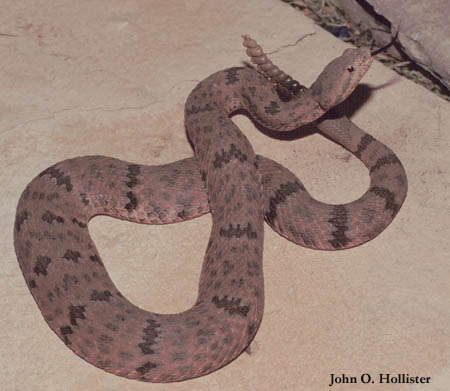 Found on a private ranch in the Eagle Mountains in July of 1999 @ approx. 11:30 P.M.
Size: up to 32"
Range in Texas: West to the Hueco Mountains of Hudspeth County and East to Uvalde County. South into the Big Bend Region and North into the Guadalupe Mountains. Found in the rockier areas of its range.
Comments: Never underestimate these little Rattlesnakes. They can strike extremely fast and have a hemotoxic/neurotoxin mixture of a venom. The Mottled Rock Rattle Snake is my favorite Rattle Snake. Although I don't keep venomous snakes, I enjoy finding these. Although not a common rattler, to date I have found more than my share of "leps" in the Hudspeth County area. The ones that I have found vary in color from dark brown w/ pink bellies (S.E. Hudspeth), Rust w/pink bellies as above (in the Eagle Mountains) and a very light pink w/pink bellies (in Western Hudspeth, South of the Border Patrol Checkpoint). The ones from the Hueco Mt. (Pipe Line Road) area in Western Hudspeth County look almost like the Banded Rock Rattler (klauberi). There is some debate whether or not intergrading occurs between the two lepidus in this area since there are "klaubs" only a few miles away in the Franklin Mts. of El Paso County. The only person that I know that has a pair of the Hudspeth County Leps is John Hollister. For more info visit his web site. Click on the thumbnails below to see the variance in the Lepidus found in Hudspeth County. Thanks to Russ Cormack for the use of his pictures. I receive allot of email requesting information on the Hudspeth County Lepidus. I created the range map below as a general guide. It is based on my own personal field observations as well as from other reliable sources. Click on it to see an enlarged version.