LIGHTING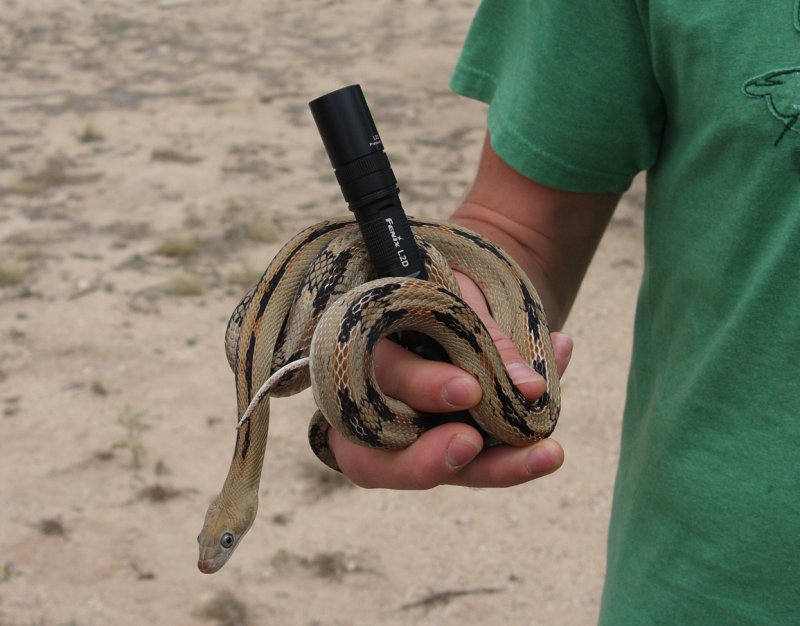 HCU member Travis seen here with a Fenix L2D at the first annual Herp Conservation Unlimited meeting with a subocularis found with his new Fenix light.
Lights have changed allot in the last few years. The days of burned out bulbs are gone. LED bulbs are tough, bright and use lots less battery power than the old style bulbs. Today there are more lighting choices than you could imagine. Most snake hunters and outdoorsmen in general have found out the utility of LED equipped flashlights / torches. I have several handheld LED lights but my favorite bar-none are the Fenix lights. For their size and weight, their brightness and runtime CANNOT be beat. While many of their models will fit the needs of snake hunters, my personal favorite is the L2D AA light. With several power options built in, it can run all night long or be the most powerful flashlight you own and still run for 2.5 hours! To top it all off, it easily fits in your shirt pocket. A very herper friendly vendor is www.fenixoutfitters.com . The owner, Daniel has proven to be one of those rare business owners that puts the customer first and has taken care of many a herper with their lighting needs. I did a review of the Fenix L2D here. Get one of these lights! You won't be disappointed.
Although I never thought I'd need one; I will never be without a headlamp again. A while back I came into the possession of a Princeton Tech Apex headlamp. At first I thought I'd never use it, BOY was I wrong. This little gadget has proven useful not only for herping but for fishing, walking, biking, photography and so many other things. I have since bought my daughters other brands of headlamps (because they kept using mine). They still want to use mine because its the brightest and the best :) Princeton Tech has proven to be one tough reliable and VERY bright light. When my dad saw it and used it, he bought one, two of my buddies and my brother have also bought one as well. Princeton REALLY put some thought into this light and it has good old American built quality to it. It runs on four AA batteries and puts out either a flood or beam. This one should last a life-time. I did a full review on this light here.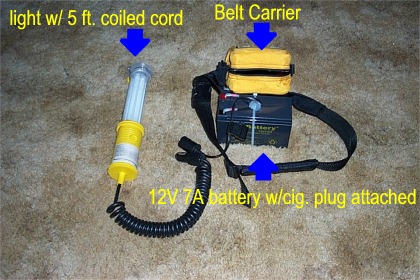 For you "Old School Herpers"; for walking rock cuts another option is a portable florescent light and portable 12 V battery. This was the preferred method used by collectors of Gray-Banded Kingsnake (l. alterna) in the past. I have had lots of email from people asking me where to get this setup. The light is called the "Saf-T-Light Stubby 2", it has an on/off switch and a 5 ft. coiled cord, part number 1713-0004. The Battery Pack is a belt type pack w/a 12v-7a battery it comes with a charger, they say that it will last 5.5 hours on a full charge. As of yet, I have not operated it long enough to run it down. The number to General Manufacturing is 260-824-3440. The above-mentioned setup is called their snake hunters kit. They otherwise do not sell direct (you would have to find a dealer). Their web site is http://www.saftlite.com. While this setup continues to be popular with snake hunters, I prefer using the Princeton Tec headlamp in combination with my Fenix light for walking cuts and the Fenix light alone for road cruising. Its much lighter, its a pure white light and Carrying extra AA's is easy and cheap. Most snake hunter I know are going this route.