HELPFUL HERPETOLOGY LINKS:
Kingsnake.com - The best Herp site on the web
ChihuahuanDesert.com - All things relating to the Chihuahuan Desert. Many good photographers here specializing in Wildlife and landscape photography. (by Joseph Forks)
Herping the Trans Pecos (by John Hollister) - A good reference site and general info on Herping in West Texas
Reptiles of Arizona - Some of the best herpetological photography on the net. This site is VERY well done by Tom Brennan with photography and text contributors Jerry and Marty Feldner. Highly recommended
Moon Phases - To see the phase of the moon on any given date. Helpful for planning your outing.
HerpIndex- Links to many breeders, content sites, classifieds, ect.
Eitan Grunwald's HERP TRIPS - An account of various herpetological outings by Eitan Grunwald. Very well written with good photography to go along with his stories.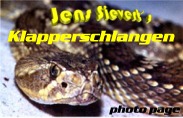 Jens Sievertīs Rattlesnake Site (Berlin, Germany)

Reptile Dealers


For Texas Enthusiasts:



A great University in the mountains of West Texas (especially if you like to hunt snakes, hike, mountain bike or photography). Located in Alpine, Texas. This is where I lived and went to school for three years. It is a very relaxing place and you won't find friendlier people anywhere.