8 Makes Great!!!!!!!!
On May 29, 2005, at approximately 8:15 pm, I checked into room 10 of the Outback Oasis Motel in Sanderson, the County Seat of Terrell County, Texas, after making the long 10½ hour drive from Phoenix, Arizona. Room 10 would serve as my base of operations for the next 11 nights. The Outback is owned by Roy and Ruth Engledorf, who took over ownership of the motel a few years ago. Roy is a fellow herper. I could tell that it had rained recently because the grounds were all wet, but I went out anyway to hunt for celaenops - there is a common shared belief that alterna in Terrell County do not move on wet cuts. The first night was a short night - because I saw absolutely no reptile activity. The next day Roy mentioned that it had rained hard 3-4 days in a row and he thought I had arrived at a perfect time. Little did he or I know just how right he would be…
May 30, 2005 - At 9:30 pm, I began hunting areas north of Dryden on HWY 349. On the way there, I saw a three-foot long atrox trying to flatten itself out on the road to soak up the residual heat. I remained on the stretch of road I like to hunt until 11: 15 pm, seeing nothing else except a large molossus. Then, I bolted to a different spot about a half-hour away, passing a two-foot long Rhinocheilus crawling across the road. I pulled alongside a six-foot tall, south-facing cut and began to walk it using my $11.98 7 LED flashlight. This 7 LED flashlight puts out a flood of diffuse white light that illuminates quite a broad area - there are no hot spots for your eyes to focus on; your eyes take in everything and the colors of alterna really stand out! Within minutes, I came upon my first alterna of the trip. It was up on the cut about four feet high and I only saw six inches of tail. Most of the snake was in a crevice about a foot long and maybe three inches tall. I did not want to grab the tail and engage in a tug of war. While I was thinking of what to do, the snake began to double back and inspect the top of the crevice very near the opening. The head was almost at the entrance of the crevice when I made my move and missed - hell, I must be really getting old! I barely touched the alterna but it quickly disappeared into the crevice. I turned off the light and waited about thirty seconds to turn it back on and saw only the head of the alterna peering out at me as it rested on an inner lip about five inches deep in the cut. At that point, I thought maybe the back of this crevice might be sealed off. I turned the light off for another thirty seconds before turning it back on and the snake began to slowly inch its way out of the hole moving horizontally across the cut. Off and on the light went until about sixty percent of the snake was exposed and then I grabbed it. A young 24" male blairs, charcoal gray, incomplete orange banding, with an irregular pattern and good contrast.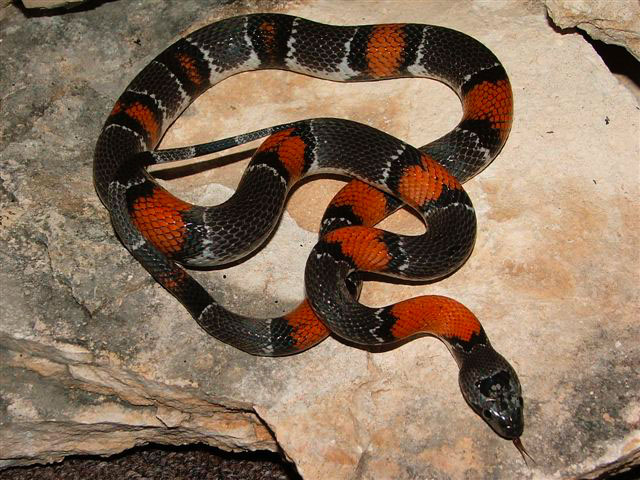 June 3, 2005 - I was going to hunt my favorite stretch north of Dryden from dusk to midnight, but deferred that area to a brother and sister team (team Dobson) staying at the Outback since they mentioned a desire to hunt that area first. I figured okay, I'll hunt HWY 90 until midnight, then we'll trade areas. Well, midnight came and went and I didn't see team Dobson. I wasn't having any luck pounding the cuts on HWY 90, so I drove off to HWY 349, thinking I passed team Dobson along the way. Going north on 349, I decided to stop at Meyers Canyon to walk the three cuts. It was about 2:30 am, a cool 75F with plenty of wind. Within minutes of parking my car and walking a west-facing cut, I saw the partial outline of a black snake laid out vertically about three feet high on the cut; approximately half the snake was obscured by a bush. I still can't recall exactly what happened, but the snake went from the cut to my hand in a nano second. A healthy, young 24" male blairs, black on black, with nice irregular banding. Tiny, almost imperceptible specks of red occupy the centers of 10-15 black scales on about half the primary bands. I thought - OK, it's a keeper. I was pleasantly surprised how good this looked.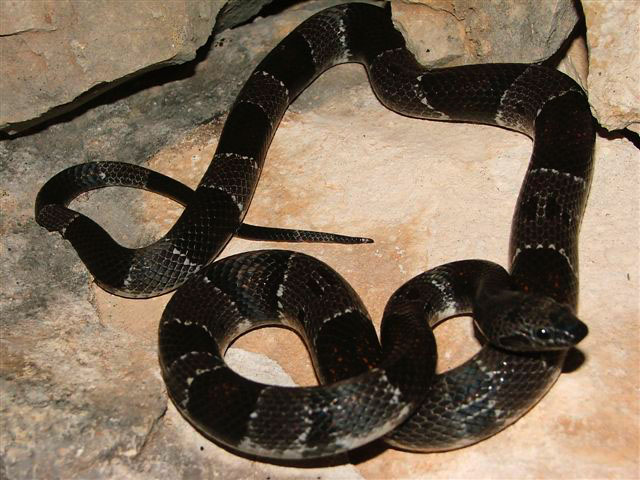 June 5, 2005 - I began hunting my stretch on HWY 349 at about 8:45 pm. On the way there, I saw another three-foot long atrox flattening itself out on the road soaking up the heat. At 9:05 pm, I collected a large male Baird's ratsnake, which was donated to the snake gallery at the Outback Motel. This was my first bairdi found AOR. Then, I drove to a few north and south facing cuts on HWY 90 about 20 miles away, while passing another Rhinocheilus crossing the highway. I parked my car next to one of the south facing cuts, got out and began to walk and sweep the cut. At 9:50 pm, I collected a very young, nicely marked subocularis at the base of the cut. It was getting off the cut and moving toward the road. I finished with the south-facing cut and began walking the north-facing cut to work my way back to the vehicle. Shortly after 10 pm, a young 12" female light-phase alterna, that I would classify as an intermediate, began to descend down the cut - it was just starting to come over the top. It was like taking candy from a baby. I searched more cuts on HWY 90, alternating between south and north-facing cuts, without further luck. Then, I tried a very long north-facing cut that has produced good things for me in the past (a male celaenops in 2002, a female alterna in 2003). My favorite part of the cut lies adjacent to a heavy patch of vegetation spurred on by a road drainage system. I walked the cut from the drainage grate to the end of the cut, then back again to my vehicle. On the first sweep, no luck. But when I swept back over the cut going the opposite direction, there was this beautiful alterna in full view, laid out horizontally on the cut. Apparently, the snake had just come out. A young, 24" female light-phase blairs, with good orange and some alternates. It was 11:45 pm, the night was still young and I already had two under my belt - both females. YOWZA!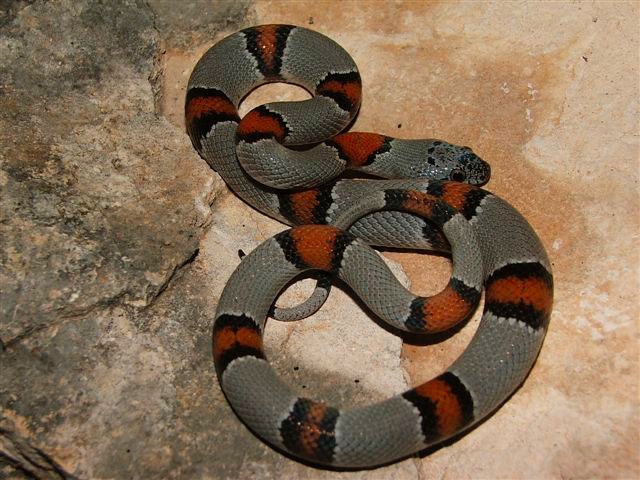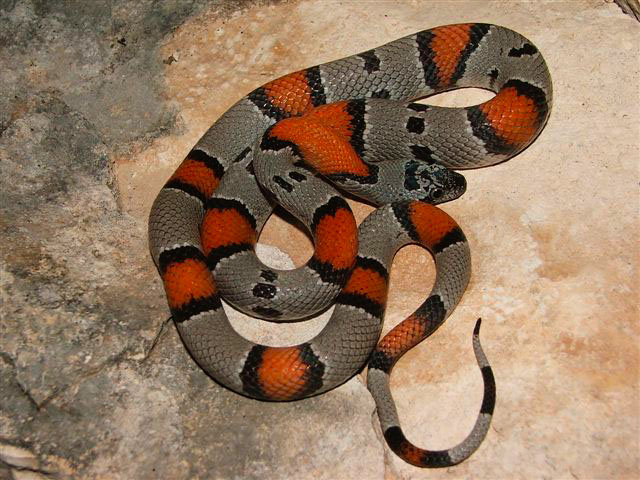 June 6, 2005 - I went back to the stretch of cuts that had produced the first and third alterna of this trip without any more luck. Then, I decided to go back and hunt the cuts on HWY 349. I worked all the cuts in my favorite stretch. It was really perfect out; a cool 75F and windy. When I was done, I decided to try the cuts at Meyers Canyon, but after maybe thirty seconds of driving, I passed a medium sized snake resting in my lane close to the shoulder of the road. The snake did not reflect much light. I stopped, quickly got out of my Jeep, ran back to the snake, and there curled up on the road was an alterna. An adult female, light-phase blairs with a very calm disposition.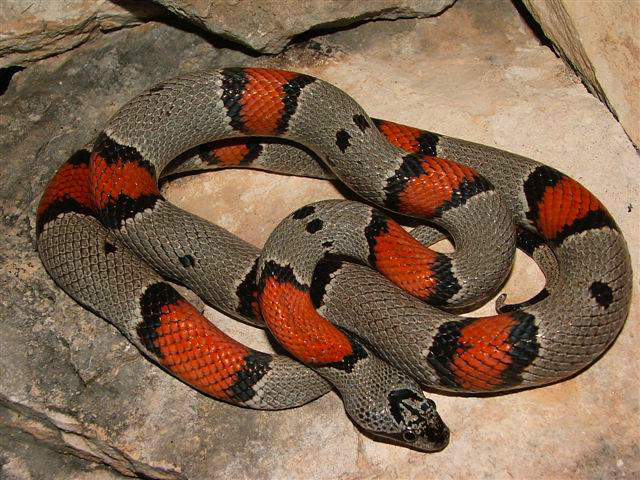 It was about 2 am. Three in one night - ties the personal best of someone else I know back in Arizona, though there were some minor differences. His were all males; mine all females. He brought a team down with him to assist (his wife to cruise the road and his friend to help work the cuts); I was alone. Given these differences, I felt I was already 'one up' on him so I was feeling pretty good about myself - besides, there's nothing like catching three female alternas in one night to give one a sense of "well being". I cruised the road for the next thirty minutes, then decided to head back to the HWY 90 cuts. I stopped at one of my "lucky" cuts, first working the north-facing cut, then sweeping the south-facing cut back to the vehicle. It was still perfect out. The north-facing cut produced nothing this time. I was walking the south-facing cut when I noticed a beautiful, big fat alterna stretched out at the base of the cut. The head and neck were partially obscured by vegetation, so I leaned in to see the head and neck, put the flashlight in my mouth and grabbed the alterna with two hands. An adult female blairs, medium gray with pumpkin orange and GRAVID!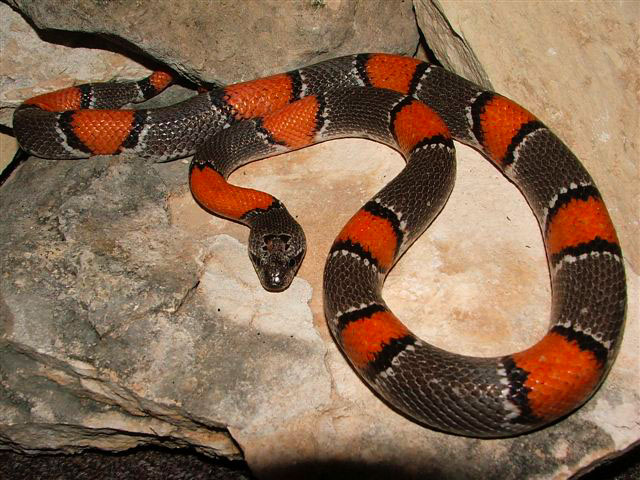 That made four alterna in five hours, all were females including one that was gravid (the adult female collected on HWY 349 at 2 am may have been "seeded" before being collected because she really began to swell up after she took a few meals - i.e., she's gravid too!). I ask you, does life get any better than this? I hunted until 4 am, then went back to the motel. Roy doesn't know this but I knocked at practically every door at the main office complex trying to wake him up before I called the toll-free reservation number and woke up his wife - ok, so I was a little excited. I had to share (document) this with someone, right? After I spoke to Roy, I tried to get some sleep, but sleep does not come easily to someone coming off a four alterna night. So, I tossed and turned and finally slept a very broken sleep until 1 pm. I watched Fox News along with the Weather Channel until it was time to go out and hunt again. At 9:15 pm, I drove out to the area where I picked up the gravid female on HWY 90. I hunted these cuts for about thirty more minutes, then drove out to my other lucky cut with the road drainage system. As I mentioned before, this particular cut has a lot of vegetation in the area adjacent to the drainage grate, so as you're working the cut, you must take your light off it periodically to illuminate your walking path. Well, at about 10 pm, during one of the times my light was off the cut to navigate through the vegetation, I see a young alterna in the grass making its way from the cut to the road. A 20" male light-phase blairs, nice orange - very little black with triple alternates. A killer looking Sanderson alterna!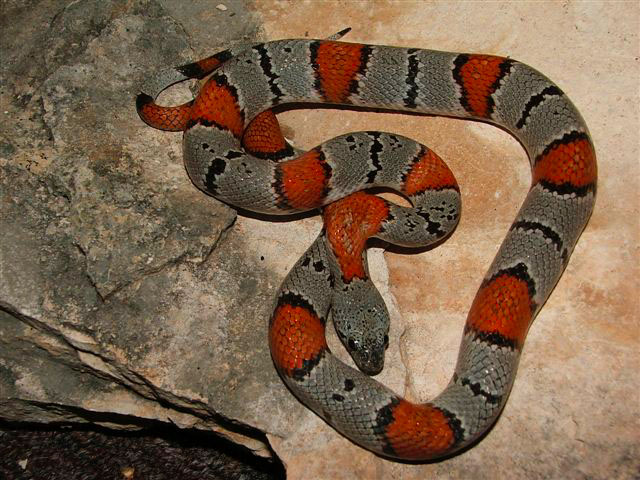 For the next 75 minutes, I walked the cuts of HWY 90, choosing only the cuts that had produced alterna this trip. Then, I decided to try north of Dryden again. I made one pass up HWY 349, turned around and then drove past another snake at roughly the same spot I picked up the adult female alterna the night before. The snake was laid out vertically on the road and I had to swerve to avoid hitting it. I stopped the vehicle, ran back to it and there on the road was a 24" alterna. A young male, light-phase blairs with wide orange bands. This was to be the eighth and the last alterna of the trip (thank God!). Sorry alterna fans, I was like Roberto Duran with Sugar Ray Leonard, "No Mas! No Mas!"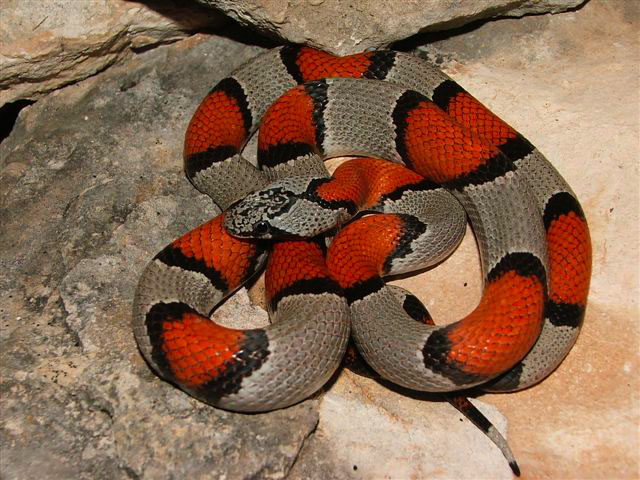 In summary, four alterna were found on the cuts, one was found crawling at the base of the cut, one was found in the grass in front of the cut, and two were found on the road. That makes eight, and what's my new motto these days? Yep, you got it, "Eight makes Great!" (OH GEEZ, sorry Wayne). Other herps of note seen on this trip were a few Syrrhopus north and east of Sanderson, a Tantilla rubra east of Sanderson and a young regalis on the motel grounds. I want to thank Roy Engledorf for the great rate at the Outback Motel. I want to thank John Fraser for taking pictures of these alterna on a makeshift rock-cut stage in the corner of my motel room, and finally, Joe Forks for permitting me to share this story with you. My only regret: not buying lottery tickets on June 5th and June 6th!
Robert Pelaez
Phoenix, Arizona