Description: This is a thick-bodied snake with an extremely variable colour pattern based on a greyish head and pale yellow, creamish or salmon coloured body with dark-tipped scale edges that give rise to broad dark bands from midbody to the end of the tail. Juvenile snakes are much more prominently marked than adults. This snake is often known as the 'white snake' in Madang province due to its pale body colour. As the name implies the eyes are small, dark and slightly recessed.
Scalation: Midbody dorsal scale rows are in 15 rows; ventrals number 178-225; the anal is divided and the 36-55 subcaudals under the tail are paired.
Body Size: The average total length is between 1.2-1.7 metres; large specimens of 2.1-2.3 metres have been recorded, but most specimens are much smaller.
Distribution: Recorded from northern Western province (Kiunga to Star Mountains) and all of the Highland and New Guinea provinces. The most concentrated populations appear to be found on islands off the northern coast of PNG. British herpetologist Mark O'Shea has collated a wealth of distribution data for this species. Small-eyed snakes are common on Karkar Island off the coast of Madang and Mark O'Shea records them from villages such as Mom, Kurum, Miak, Kulkul, Kaviak, Bulu and from around the Gaubin Lutheran Mission. There are also numerous records from the nearby mainland including Madang itself, Alexishafen, Malolo, Nageda and Bogia. It is probable that the snake is found on Manam Island off Bogia. Further along the coast it is common near Wewak and Aitape and occurs on Walis Island. Other records include Popondetta, Buna, Kokoda and Ilimo in Oro province; Garaina, Wau and Bulolo in Morobe province; and Telefomin, Tabubil, Ningerum, Rumginae, Takam and Munbil in Western province. Records are scattered throughout the rest of the Highland and Mamose provinces but this may be due more to the crepuscular nature of the snake than to a lack of abundance. There are isolated records in Gulf, Southern Highlands, Central and Milne Bay provinces.
Small-eyed snakes are widely distributed in West Papua and the Aru Islands from as far afield as Montagne de Karoon on the north-western side of Waigao Island to Jayapura near the Papua New Guinea border in the east of West Papua province. There are museum records from Batante Island and from Misool Island north of Seram. In Geelvink Bay small-eyed snakes have been found on Jobi and Numfoor Islands and it also occurs on Mansinam Island off the eastern coast of Sorong. Mainland records include the mountainous Baliem Valley, Wasior on the Wandam­men Peninsula, Fakfak on the Onim Peninsula, and Mimika River and Merauke in the south.
Habitat: This snake lives in wet environments from sea level to over 1,500 metres. Common in monsoonal forests, lowland swamps and rainforests where it lives in ground debris. There are some well-established and abundant regional populations, often in and around Coconut plantations (especially Karkar Island) where large numbers of small-eyed snakes lives in old coconut husk piles.
Diet: Believed to be an opportunistic feeder, preying on a wide variety of small ground dwelling animals including lizards, rodents, frogs and particularly other snakes, including its own species.
Reproduction: Very little is currently known about this egg-laying snake although the Moscow Zoo in Russia successfully hatched two juveniles from a clutch of five eggs in 2004.
Activity: Although generally considered to be a ground dwelling, largely nocturnal species, there is a single report from West Papua of a serious snakebite having been caused by a large M. ikaheka that was caught in a bird trap high in a tree (Warrell et al., 1996). During the dry season this snake is often found in old, over­grown coco­nut husk piles, but is often encountered moving on the ground at night during rainfall. On the PNG mainland small-eyed snakes living in natural forests are rarely encountered and nothing is known about their daily or seasonal activity cycles.
Behaviour: These are shy, generally inoffensive snakes until disturbed. If handled small-eyed snakes can be very aggressive and will bite readily, often chewing down hard and refusing to let go of its victim. Small specimens are very agile and surprisingly fast, while large snakes tend to be heavy-bodied. The small eyes and smooth body scales are specific adaptations for burrowing among ground debris and loose topsoil in search of food.
Medical Importance: This highly venomous snake is believed to account for only a small proportion of snakebites in mainland regions of Madang, East Sepik and Sandaun provinces. However, a study of M. ikaheka bites found that approximately 40% of the envenoming on Karkar Island were due to this snake (Warrell et al, 1996). Bites by this snake also appear to be relatively common in the Rumginae area of Western Province.
The presence of small-eyed snakes in coconut plantation husk piles is a potential hazard to plantation workers, as these snakes often emerge from within piles to hunt just as workers are returning home at dusk. Although local people in the Omati and Baina areas of Gulf province say that this is a common snake, it is rarely a cause of snakebite as it lives in thick rainforest areas where few people venture at night and this may explain why few people seem to be bitten on the mainland.
Venom: Small-eyed snake venom contains a number of unique toxins that are not present in other PNG snake venoms. Although these produce clinical effects similar to those seen in bites by other species, such as neurotoxicity, myotoxicity and bleeding, the unique properties of the venom mean that antivenom may not neutralise some components as well as others. Laboratory experiments suggest that CSL polyvalent antivenom is effective in the treatment of bites by this snake, but more evidence is required to determine whether this applies in clinical cases.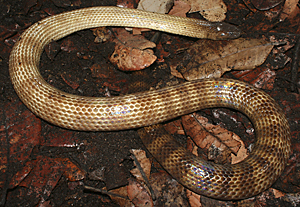 Small-eyed snake (Oro Province, PNG)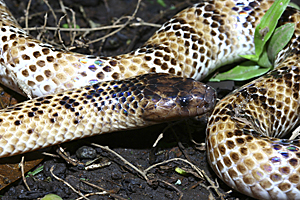 Small-eyed snake (Madang Province, PNG)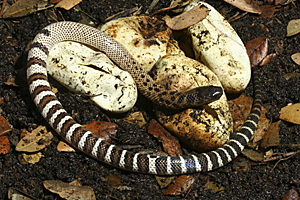 Newly hatched small-eyed snake at AVRU/UPNG Serpentarium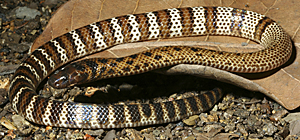 Subadult small-eyed snake (Madang Province, PNG)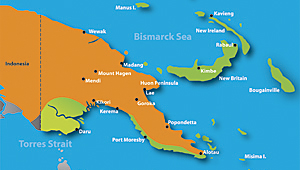 Distribution of small-eyed snakes in PNG